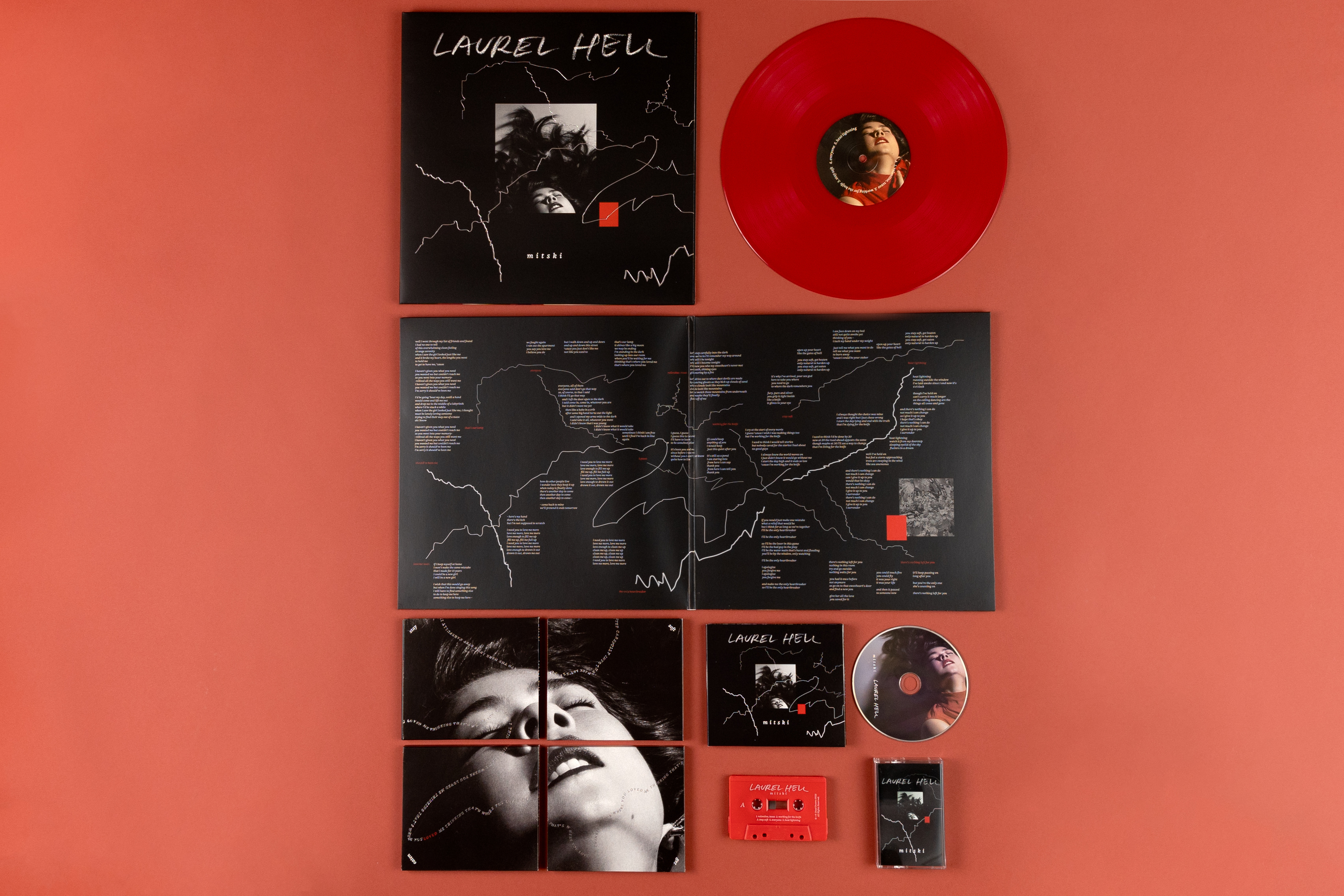 Mitski's Laurel Hell
Design for Mitski's 6th studio album,
Laurel Hell,
select merch, and art direction for
website
, additional consulting on merch lines.
Laurel Hell
was released on February 4, 2022 and is categorized as synth-pop, indie pop and electro-rock.
In an interview with
Variety
, Mitski describes "
Laurel Hell
is a soundtrack for transformation, a map to the place where vulnerability and resilience, sorrow and delight, error and transcendence can all sit within our humanity, can all be seen as worthy of acknowledgment, and ultimately, love."
Collaboration with Mitski.
Photography
Ebru Yildiz
.
Typeface "Resolve" by
Corinne Ang
.
All photos below with red background by
Anna Powell Denton
.
A line was drawn in response to each track on this album and is printed in shimmering (like "wet teeth, shining eyes"*) silver foil. These lines are, at the same time; lightening, evidence of a journey, and the tangled branches of a mountain laurel bush (so thick and overgrown you can't escape it—the namesake of this record), and when layered with Yildiz's photography portray an emotional state between agony and ecstasy. Upon opening the record package the silver marks reveal a complex and tangled map on which the lyrics coax a reader along a tumultuous personal journey.
Intentionally, a single photographic representation of Mitski is used for all the music packaging. Side A and B of the record label also feature Yildiz's singlular image, on side A the portrait of Mitski is clear, while side B presents her likeness buried under a mess of laurel leaves.
As elegant as it is fierce, the typeface "Resolve" by Corinne Ang and was chosen for it's attributes,
as described
"stubborn & grounded, not delicate nor fragile" and how it "reveals a bittersweet sharpness to accompany the everflowing swerving curves". Practically, the typeface performs well at both very small and large sizes, and formally the expert craft reflects the quality of the music, writing and production on
Laurel Hell
.
*
Valentine, Texas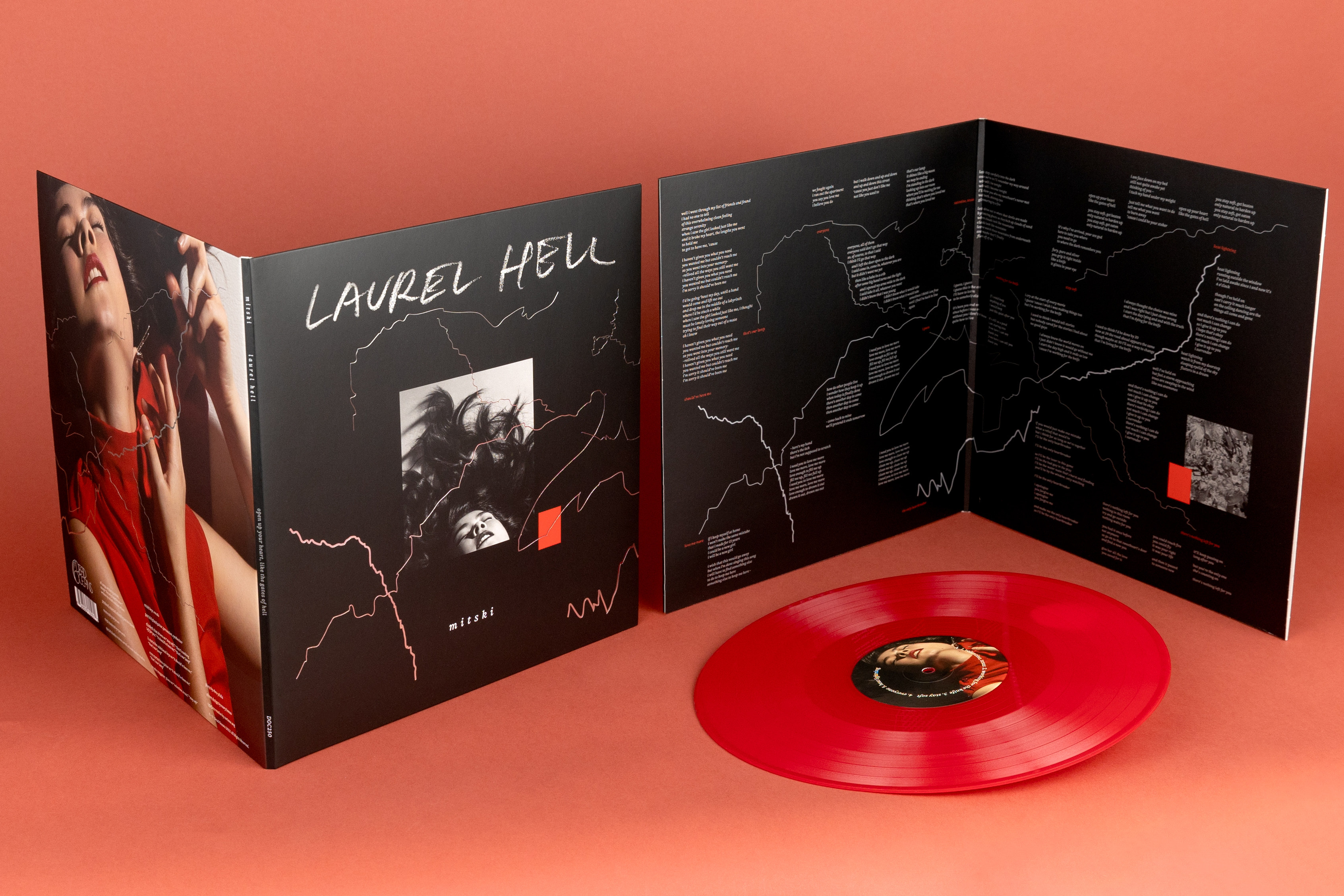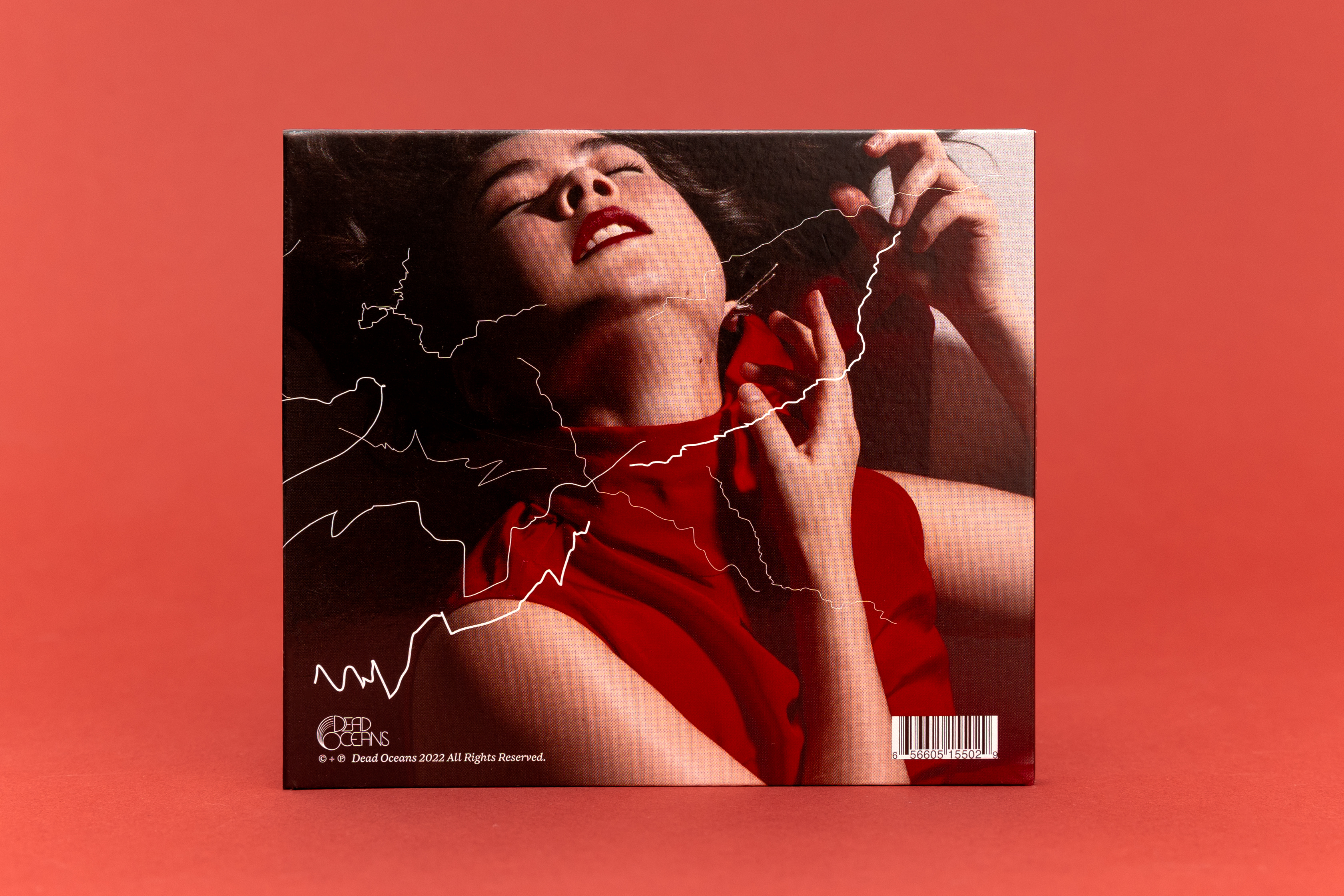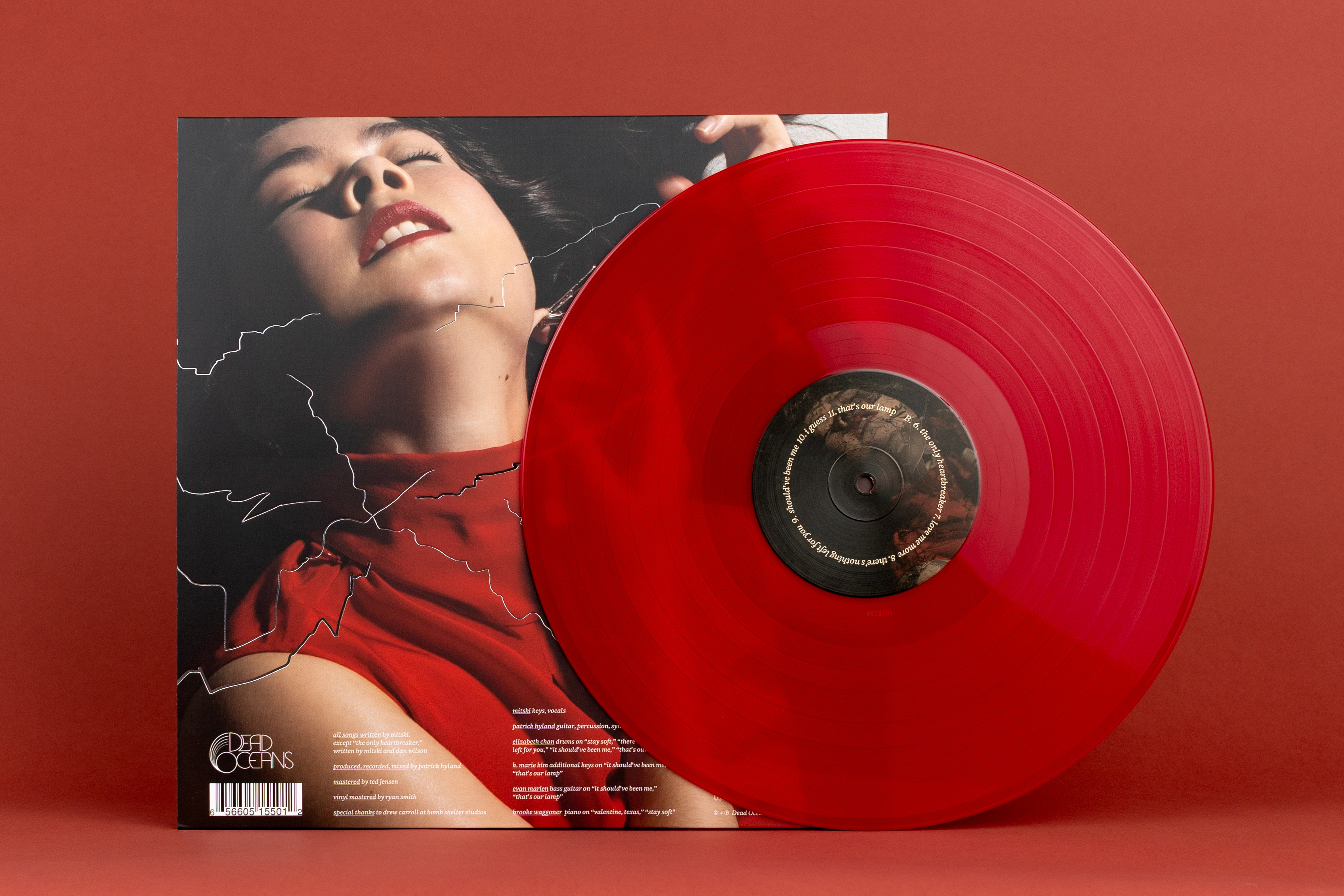 Above: Primary record package design, red vinyl; black vinyl, triple button red and black vinyl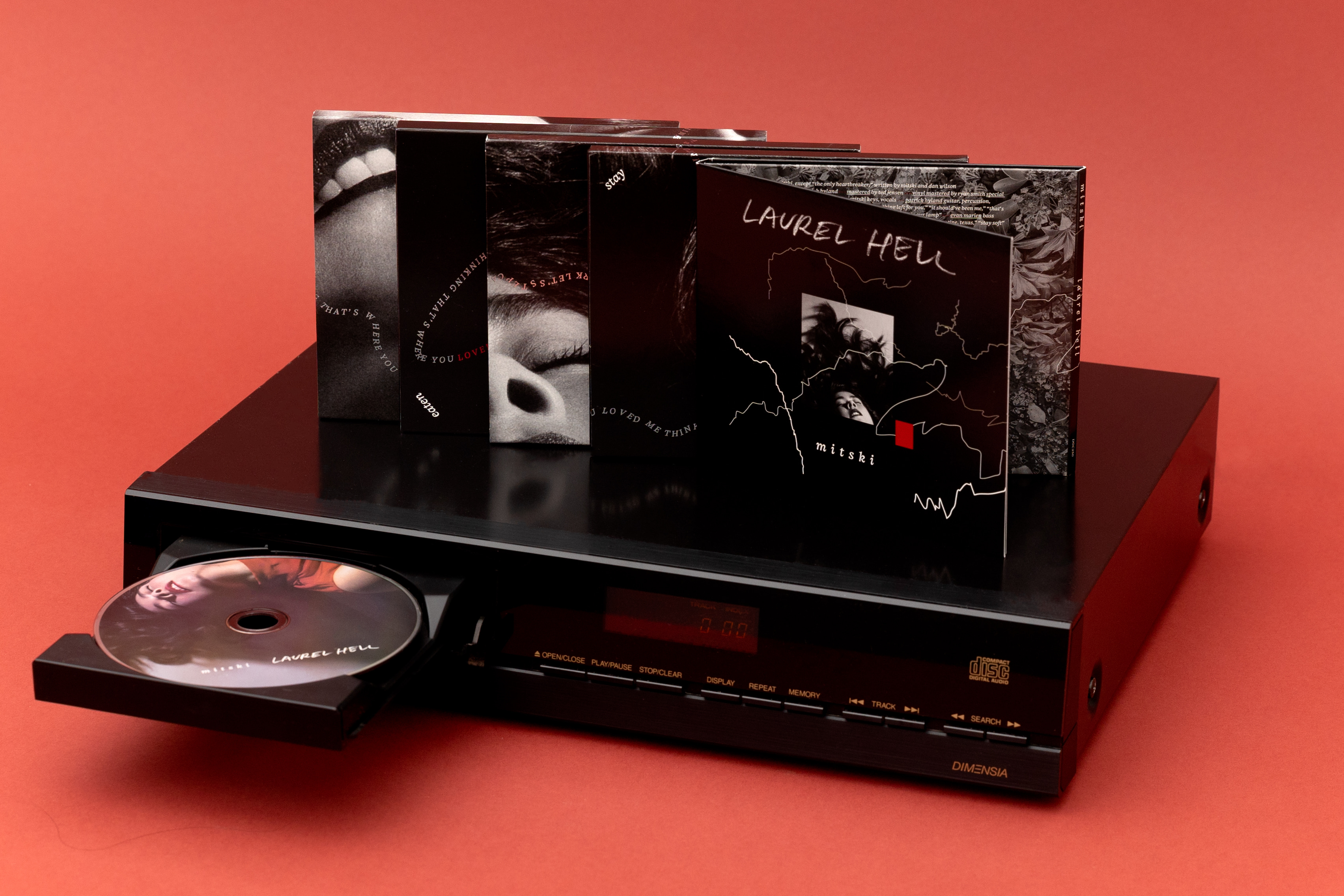 Above: variant CD slip case design: "stay" "soft" "get" and "eaten" reveal a new crop of Yildiz's iconic portrait of the artist.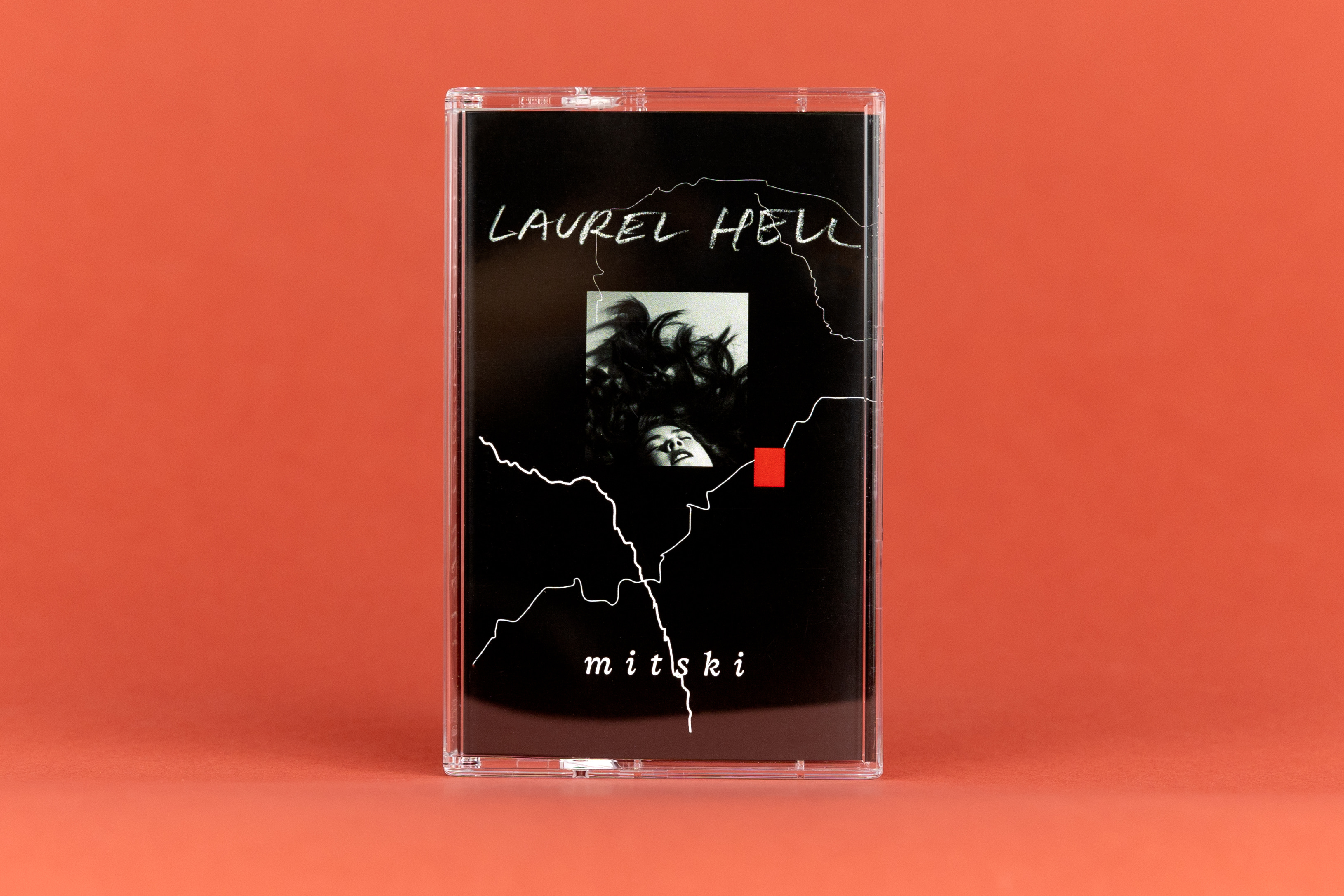 Above: cassette package design: when closed, the track list and cassette title present opposing reading experiences — neither is right side up, hopefully frustrating the consumer
---
Work includes:
—Vinyl
Laurel Hell
US
—Vinyl
Laurel Hell
UK (Rough Trade exclusive)
—Vinyl
Stay Soft, Get Eaten: Laurel Hell Demos
(Rough Trade exclusive)
—Vinyl variant specifications (all records world wide, standard retail variant, DTC exclusive, Secretly Society Album of the Month, Rough Trade album of the month, Vinyl Me Please, Japan, Mitski Store)
—CD
—Set of 4 limited edition CD slip cases
—Cassette tape
—Digital album cover (design optimised for for music platforms)
—Digital singles for
Working for the Knife, The Only Heartbreaker, Heat Lightning, Love Me More
—Digital art for
Love Me More (Clark Remix)
— Custom lettering and font for album art and website
—Poster
—Series of 5 Mystery T's
—Dust Devils shirt
—Secretly Shirt
—Commemorative dice set
Label:
Dead Oceans
/ Secretly (special thanks to Miles Johnson)
Management:
Good Harbor
(special thanks Tommy John Chiari & Ben Levin) previously Salty (special thanks Chris Crowley)
Merch:
Second City Prints
(special thanks to Emily and Carly)
RISD Viewbook
This book is an overview of undergraduate life and study at Rhode Island School of Design intended for high school sophmores, juniors, and guidance counsellors.
Reflecting a museum and school that offers both a world-class arts education as well as rigorous liberal arts study, the conceptual framework for this book is "new collegiate". Innovation, but steeped in history. Latest technology, but founded in 1877. Additionally, the formal moves in this volume are meant to convey the idea that studying at RISD is like "sunshine on a cloudy day". Several hidden rainbows are waiting to be discovered by readers: one on the foredge comprised by the "Programs of Study" section, the rainbow foil on the spine, and the colorful crystal photography by alum
Maria Constanza Ferreira
throught.
A modest proportion connotes an academic journal or novel, and is offset by the dramatic unfolding of oversized flaps covered in Ferreira's fantastic microscopic crystal photography. Dimesional, blind embossed typography on the cover offer hands a soothing tactile experience— and yes, it feels good to hold this book.
The display typography is Canela by Miguel Reyes, a refined semi-serif that appears to reference the tool it was made by (and was influenced by his experience with stone carving). Canela seems to be in a dialogue with the RISD seal, drawn by John Howard Benton (1901-1956), also local stonecarver and RISD professor. From the Commercial Type website, "its forms are in an ambiguous space between sans and serif, both soft and sharp, modern yet with roots in the classical" which made a lot of sense for this project. Canela is complimented by Maison Neue by Timo Gaessner—a grotesque sans serif that is sophisticated, confident, and comfortable to read.
---
Created for/with RISD MEDIA GROUP
Creative Director: Huy Vu
Creative Strategist: Lauren Maas
Design: Mary Banas and Jordan Gushwa; student designer: Utkan Dora Öncül
Illustrations: Suerynn Lee
Photograpy: George Gray, David O'Connor, Jo Sittenfeld; Bruce Damonte, Alexander Kern, Jocelyn Arruda, Pneuhaus, Acacia Johnson, RISD Museum, Tavares Strachan/Joe Vincent Grey, Brooks Hagan, ArTwerk/The Avenue Concept, Studio and NADAAA/John Horner, Kendra Xu, Matt Watson
All photography of the book itself (below) by Erik Gould.
Madness

Digital art for a special podcast series from WBUR's Endless Thread called MADNESS.
"MADNESS: The secret mission for mind control and the people who paid the price."

Hundreds of people who were experimented on at the Allan Memorial Institute over the course of two decades are all connected to one man: Dr. Ewen Cameron. This podcasrt explores the dark history of Dr. Cameron, MK-ULTRA*, and examines the origins of Subproject 68: Dr. Ewen Cameron's experimentation on patients at the Allan Memorial Institute in Montreal.

*Project MKUltra (or MK-Ultra), also called the CIA mind control program, is the code name given to a program of experiments on human subjects that were designed and undertaken by the U.S. Central Intelligence Agency, some of which were illegal. Experiments on humans were intended to identify and develop drugs and procedures to be used in interrogations in order to weaken the individual and force confessions through mind control. The project was organized through the Office of Scientific Intelligence of the CIA and coordinated with the United States Army Biological Warfare Laboratories. — Wikipedia

About Endless Thread: Hosted by Ben Brock Johnson and Amory Sivertson and made by WBUR, Endless Thread, a podcast from WBUR and Reddit, delves into Reddit's boundless communities with the help of Reddit and Redditors, exploring some of the most compelling stories the internet has to offer. This is a show for Reddit connoisseurs, skeptics, and the rest of us.
Endless Thread identity
2021
A new identity for WBUR's
Endless Thread
podcast designed with Elena Foraker.
Animations by
Mark Buenafe
directly inspired by the end scene in the 1990's computer game
Microsoft Solitaire.
The type is a modified version of
TINY
by Jack Fahnestock.
About Endless Thread:
Hosts Ben Brock Johnson and Amory Sivertson dig into the internet's vast and curious ecosystem of online communities to find untold histories, unsolved mysteries, and other jaw-dropping stories online and IRL.
MMXX

Limited edition design by Zak Jensen and Mary Banas for the Collab tab on Everpress
This shirt is about different ways of forming connections. Zak and I haven't lived in the same place for years, so staying in touch requires some effort and creativity. Now, in quarantine, this is true for most relationships everywhere. The reference that spurred the design in this direction came from an unlikely source; New York's Governor Andrew Cuomo, who advised people to "be socially distant, but spiritually connected". A shirt won't change things, but the process of making it was one way for each of us to stay in touch with a friend. MMXX is 2020.
https://everpress.com/mmxx
---
contact: mary.banas (at) gmail.com
1981–NOW © YES IS MORE, Mary Banas, specified rights holders. All Rights Reserved.